The Sculptures of Charles Alexander Moffat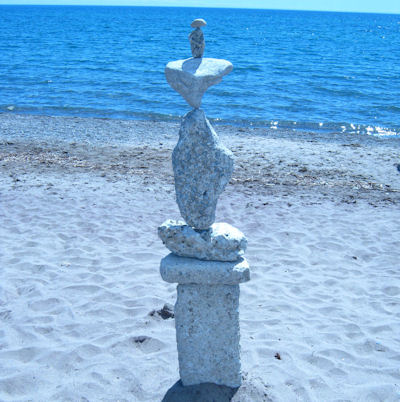 Charles Alexander Moffat enjoys making sculptures more as a hobby than as a career. Truth be told he has never taken it seriously in comparison to his painting career.
It should be noted that Moffat enjoys a wide range of sculpting materials, including wood, steel, cement, rock and pottery. When he was younger he studied welding, carpentry, construction and worked alongside his mother (a landscape architect) with gardening and landscaping projects. During high school he was fond of making wood and steel sculptures, as well as pottery.
During university Moffat was taught by sculptors Tim Whiten (glass sculptures), Michael Davey (cement casting), Ted Bieler (steel sculptures) and Bruce Parsons (installation art), but never developed a personal style during that period of his artistic career.
Between 2003 and 2005 Moffat also studied (but did not actively engage in) sculpture practices in South Korea. The Koreans are very fond of making sculptures out of bronze, steel, cement, wood, ceramic and paper. It was in this location that Moffat first encountered Buddhist rock balancing, a zen practice which represents hope.
In years since then Moffat's sculpture practice has been small, often in the form of woodcarvings and thus never saw the need to have a website built for showcasing his sculptural works.
In April 2011 took up rock balancing art, alongside fellow Toronto artist Aimee Rimes, at the Toronto Beaches. Rock balancing uses no glue, no cement, no magnets or anything else like that. Its just balanced. It takes practice and patience, and some creative ingenuity.
The section below chronicles some of Moffat's rock balancing art. Moffat hopes to add more sculpture work in the future, with more emphasis on his woodcarving and metal sculptures.
Quotes
"I believe anyone can learn to make art. It just takes practice and determination." - Charles Moffat.
Last Updated: February 2nd 2023.